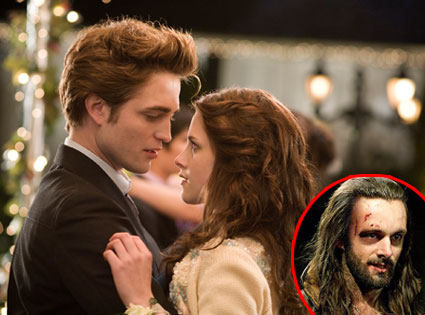 NEW MOON IS ALMOST OUT!!!!! Aro has been chosen!
Summit Entertainment, Screen Gems
From cut-throat journalist to blood-sucking vampire.
British actor Michael Sheen is joining Robert Pattinson & Co. in New Moon, the sequel to the blockbuster film Twilight, a studio rep has confirmed to E! News.
In the new film due out this fall, Sheen, 40, will play Aro, the leader of the deadly Volturi vampire coven that wants to ensure humans never find out bloodsuckers exist.
Sheen is best known for playing David Frost in last year's Oscar-nominated Frost/Nixon and as former British Prime Minister Tony Blair in 2006's Oscar-winning film The Queen with
Helen Mirren
.
New Moon isn't Sheen's first time portraying the undead; he also starred in 2003's Underworld starring
Kate Beckinsale
, with whom he has a daughter.